1
Gamers
[/u]
Gamers is a magnificent WordPress theme, it includes easy to use administrative panel, custom widgets, slider, menus and lots of other useful features.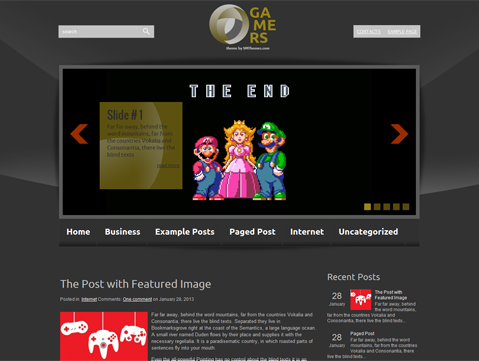 DEMO | DOWNLOAD | THEME URLTheme Features:
* SMT Framework 2.0new
* Dynamic Content Loadernew
* Custom Sidebarsnew
* Google Maps Shortcodenew
* Responsive Web Designnew
* Custom Widgets Ready
* Social Share Bar
* Shortcodes Ready
* Contacts Page
* Translation Options
* Slider Ready
* SEO Optimization
* Compatible with latest WordPress versions
* Custom Menus
* Antispam without Captcha
* Multicolor Related Posts
Progress
[/u]
"Progress" brings the message of science and innovation, being one of the most popular premium WordPress themes of this segment. The design offers a variety of research fields and implies that everything here is state-of-the-art. Such WordPress themes usually appeal to people easily seduced by technology – so called technologically romantic. In any case, your website would benefit from it in case you offer gadgets, scientific news or somekind of educational services. Get "Progress" from our collection of free WordPress themes or acquire the full version will all the advantages it offers.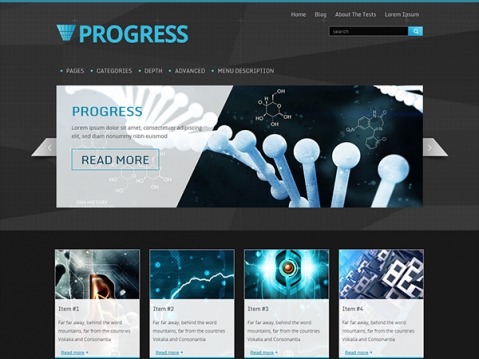 DEMO | DOWNLOAD URL
|
THEME URLTheme Features:
* Translation ready
* Responsive Web Design
* YouTube and Vimeo integrated
* Related posts
* Documentation
* Page templates
* Custom drop down menus
* Custom logo
* Google maps
* Custom contact form
* WooCommerce supported
* Threaded Comments
* Compatible with all major browsers
* Demo content
* Custom Widgets Ready
* Shortcodes Ready
* SEO Optimization
* Social Share Bar